Windows 7 SP1 with Update [7601.25860] AIO 44in2 (x86-x64)
Windows 7 SP1 with Update AIO (x86-x64)
Program version: 6.1.7601.25860 / v22.02.09
Official site: MS
Interface language: English, Russian
Treatment: Not activated ,use any activator of your choice
System requirements
Processor: 1 gigahertz (GHz) or more.
Free hard disk space: 20 gigabytes (GB).
Graphics adapter: Microsoft DirectX 9 graphics device or higher.
Additional requirements to use some features.
Description
The assembly is based on the original images from MSDN. Updates up to February 8, 2022 have been integrated, and SmartFix 2.4.3 and Microsoft DaRT have also been integrated. There are no cosmetic changes and nothing has been cut!
Build Features
– Integrated updates for February 8, 2022;
– Integrated SmartFix 2.4.3, Microsoft DaRT in winre.wim and boot.wim;
– The systems were not in audit mode.
List of windows editions available for installation
Windows 7 Starter x86
Windows 7 Starter N x86
Windows 7 Home Basic x86-x64
Windows 7 Home Basic N x86-x64
Windows 7 Home Premium x86-x64
Windows 7 Home Premium N x86-x64
Windows 7 Professional x86-x64
Windows 7 Professional N x86-x64
Windows 7 Ultimate x86-x64
Windows 7 Ultimate N x86-x64
Windows 7 Enterprise x86-x64
Windows 7 Enterprise N x86-x64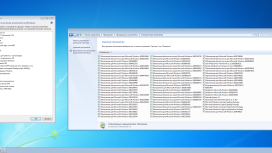 Checksums
en-ru_windows_7_sp1_with_update_7601.25860_aio_20in1_x64_v22.02.09_by_adguard.iso
MD5: d04ec2f419b97d58c2cf27cdf0683b13
SHA-1: 3362a92b913dd39c7d4147859900167850bda8bc
SHA-256: 4d566dcd3713fd7b9403cf659646882fabf5f06c83aa4c5dfd4fdbd3e993663c
en-ru_windows_7_sp1_with_update_7601.25860_aio_24in1_x86_v22.02.09_by_adguard.iso
MD5: 4de6f4624ee45fc5d4298f0b56bc83b2
SHA-1: 44c2229357d9e5d3299adb774b74b7662c1466bd
SHA-256: cd276401a3929e87bf56d8b0c550a78f6f8ffeed44900452dc2dc8a10788ecad
You can download Windows 7 SP1 AIO 44in2from the link below…
Download Links